Friday, April 12, 2019 is National Teach Children to Save Day.
Please join Martha's Vineyard Bank in the Celebration!
ENCOURAGING A HEALTHY FINANCIAL LIFESTYLE
Martha's Vineyard Bank is committed to supporting and encouraging a healthy lifestyle. Several studies indicate that there is a connection between financial security and physical and emotional health.
The Bank has dedicated these pages to financial education, and has included some activities in honor of National Teach Children to Save Day, Friday, April 12, 2019.
Looking for the Essay Contest where you can win up to $200? Please scroll down.
RESOURCES:
Martha's Vineyard Bank teaches financial education beginning in Kindergarten.
YOUNG ADULTS:
CHILDREN:
Martha's Vineyard and Falmouth Elementary Schools participate in School Savings Program.
IN GENERAL:
The Federal Deposit Insurance Corporation (FDIC) provides a wealth of information.
The Federal Deposit Insurance Corporation (FDIC) features innovative standards-aligned curriculums that can be incorporated into subjects such as English language arts, Mathematics and Social Studies. Special features of each curriculum are:
Multiple lessons that can be taught alone or in combination.
Ideas for grade-level modification.
Real-life exercises and examples.
Suggestions for optional books or online games/tools that can reinforce student understanding.
Parent and Caregiver guides to engage parents.
IN GENERAL:
Parent's savings information coming soon.
SCHOOL BANKING DAYS - LOCATIONS AND DAYS
TUESDAYS
Oak Bluffs Elementary School
WEDNESDAYS
Chilmark Elementary School
West Tisbury Elementary School
MV Public Charter School
THURSDAYS
Edgartown School
Tisbury School
Vineyard Montessori
WEDNESDAYS
Morse Pond Middle School
East Falmouth Elementary School
THURSDAYS
North Falmouth Elementary School
Teaticket Elementary School
FRIDAYS
Mullen-Hall Elementary School
ACTIVITIES TO HELP TEACH CHILDREN TO SAVE!
COLORING FOR KIDS!
Parents! Download this educational coloring sheet for your kids!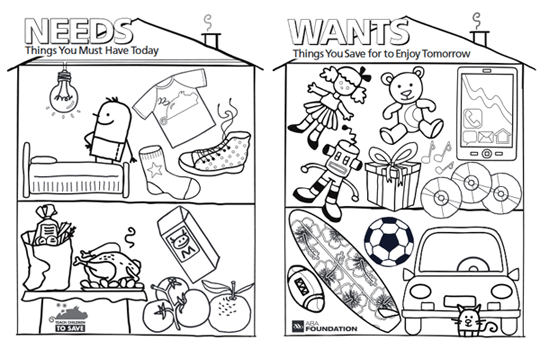 2019 ESSAY CONTEST
Win up to $200 in the Martha's Vineyard Bank "Teach Children to Save" essay contest!

Imagine you had the opportunity to provide a family with all its basic financial needs for one year. What would you include in a family budget? Give your reasons for why these things would be important. In your conclusion, explain how a bank could assist a family in reaching this budget for important items.
MORE RESOURCES
Money as You Grow a Reading list for parents and educators.
Read more about History of School Banking through Martha's Vineyard Bank.
POWER POINTS
A TALE OF TWO BROTHERS: Todd's & Kyle's Money Journals
KIDS AS COINS:School Store Price List
What people are saying...
Patti Leighton, (MVSB Public Relations Director) has joined my 8th grade students during their personal finance classes, for several years. Her engaging and enlightening lessons have provided valuable information in the areas of: the different types of banks and their services and fees; the importance of keeping accurate track of deposits and withdrawals, not only for personal budgeting, but also to prevent fraudulent withdrawals; Identity Theft Protection; the use of debit and credit cards.
Alice Robinson
Family and Consumer Science Teacher
Tisbury School
Vineyard Haven, MA